This article was created by a Technology Services student employee. Our student employees attend, engage, and report on campus activities that feature technology. Students provide a unique perspective on how innovations in technology affect campus life.
As the university plans to move more towards in-person instruction in the fall, we wanted to highlight amazing staff that work hard to ensure online learning goes as smooth as possible!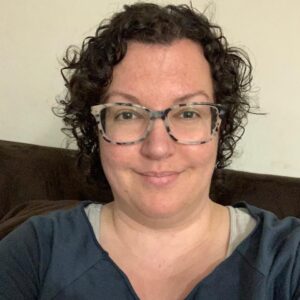 This is Gaby Venatta, and she provides technical support to faculty and staff that use Compass. She also creates communications associated with Compass, as well as the current Canvas pilot and Research IT. I had the great pleasure to reach out to her and chat about her field, the project she's the proudest of, and what advice she has for other women interested in her career! 
What drew you to your field? 
Honestly, I laugh that I ended up working in IT, because I do not consider myself to be overly technical, but I have always had an appreciation for clear and concise communication, so technical communication is a great fit. I enjoy helping people, so the support side of my work fulfills that need. 
Can you tell me about a project you're super proud of? 
I am proud of the work that is happening now for the move to Canvas–everyone involved is working hard to make this transition as seamless as possible for campus. 
What advice would you give a woman interested in a career in your field? 
I would encourage women interested in technical communications to take risks, to get involved in projects that might be beyond your comfort zone. Also, remember that you are working to help people understand complex ideas, and that your work genuinely helps others. 
Although Women's History Month is over, the university has a number of groups for women in technology. Check them out!