Technology Services is here to help instructors effectively use Illinois Compass 2g in their courses. Many of the topics below contain links to other web pages with more detailed explanations.
Illinois Compass 2g will be retired on May 31, 2022. For more information on our newest learning management system, Canvas, please visit the Move to Canvas site.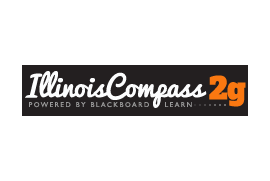 Requesting a Space
In addition to Registrar-affiliated spaces, you can request Development, Training, Collaboration, and Non-Registrar-Affiliated spaces providing new ways to use Illinois Compass 2g.
Managing Course Access
Illinois Compass 2g space owners assume the responsibility of adding teaching assistants and other guests into their course spaces.
Registrar-affiliated courses will automatically load student rosters daily throughout the term; students who are unenrolled are not automatically removed from the roster, but the course is made unavailable for these students.
Developing Your Course
Illinois Compass 2g allows you to easily customize your course menu and organize your course contents using any format or structure you prefer. Use the links below to explore the available options and features of Illinois Compass 2g as you consider how to best present your course content.
Understanding the interface
Customizing your course menu
Sorting your Grade Center
Organizing your files in the content collection
Making content available to students
Communication and Collaboration
Learning is a social process that involves communication and collaboration between classmates, peers, and instructors. Enhance your students' learning using the communication and collaboration tools available in Illinois Compass 2g.
Keeping students informed
Discussions, blogs, and journals
Working with groups
Assessing Student Work
Grading student work
Creating assignments
Creating and managing exams and quizzes
Detecting plagiarism with SafeAssign
Adding Interactivity and Multimedia
Interactivity in the classroom
Streaming media
Learn More
Contact the Technology Services Help Desk to schedule an individual or group consultation and let us help make teaching with Illinois Compass 2g even easier.
LinkedIn Learning provides more than 6 hours of online video tutorials focusing on Blackboard Learn 9.1. Urbana/Champaign campus faculty, students and staff visit – go.illinois.edu/linkedinlearning and search for "Blackboard" for access to these informative videos.
For further information about Illinois Compass 2g from the company providing the platform on which Illinois Compass 2g is built, consult the Help documentation at Blackboard Library or their OnDemand Learning Center.