This article was created by a Technology Services student employee. Our student employees attend, engage, and report on campus activities that feature technology. Students provide a unique perspective on how innovations in technology affect campus life.
By Janey Bang, Organizational Psychology '21
The Illinois Flexible Learning Experience
IFLEX stands for Illinois Flexible Learning Experience, and is one of the newest types of technologically-enhanced classrooms on the University of Illinois campus. These spaces provide an interactive, group-focused environment, and encourage collaboration in the classroom with or without technology.
A typical IFLEX classroom looks like this: tables and chairs on wheels that make it easy for students to move around and form groups; multiple wall-mounted smart screens that allow instructor and students to share content easily form any viewing angle; and, many whiteboards for small group brainstorming and other activities.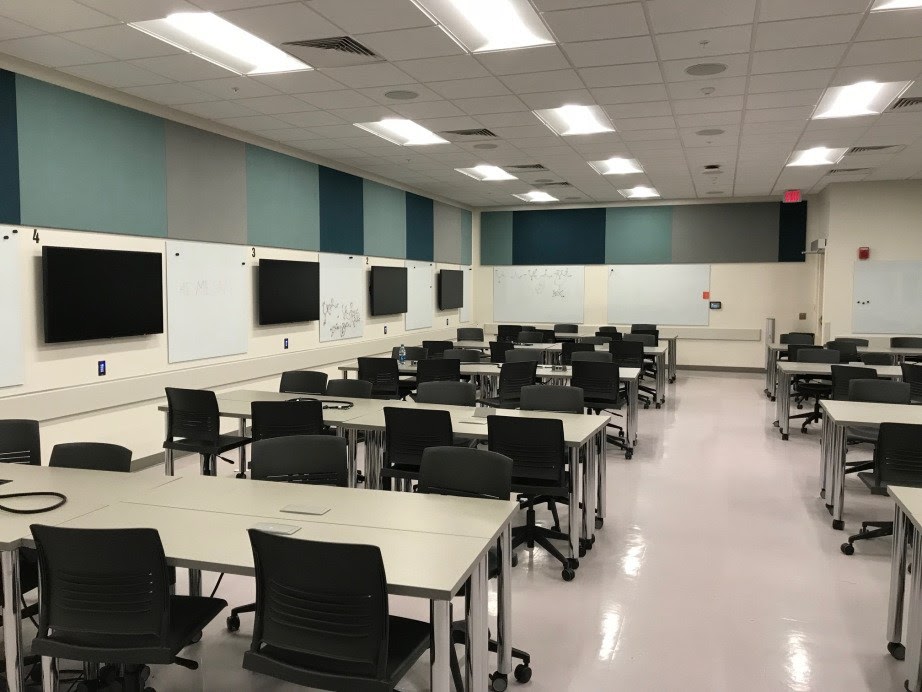 Students in IFLEX classrooms typically spend more class time participating in hands-on activities with peers, and less time listening to lectures. This results in increased levels of engagement and improved learning outcomes. As the demand for collaboration and teamwork skills increases across all industries, students and faculty report that the tech-enriched learning opportunities and increased interaction with peers they experience in the IFLEX classroom, make this the ideal teaching and learning environment to prepare them for the future workforce.
This past semester, I had the privilege to learn and work in one of these classrooms. As a student in PSYC 239: Community Psychology, I took the opportunity to interview my instructor, Emily Blevins, about her experience teaching with this technology.
As a student, I definitely feel more engaged in an IFLEX classroom, how do you feel about engagement as an instructor?
First, it's great to hear that the students are feeling engaged, because that was one of our primary goals for setting up an IFLEX classroom. Engagement as an instructor definitely feels easier and I feel that it really values the class of community psychology, where the sense of community and work as a team is strongly encouraged.
Did you have to sign up to teach in an IFLEX classroom or was it assigned?
I was actually assigned! I believe it has been 3 years in a row now that PSYC 239 as a course was assigned as an IFLEX classroom course.
Why is it beneficial to teach PSYC 239 in an IFLEX classroom?
PSYC 239 teaches the values of building a community and an iFLEX classroom reflects just that. Students are constantly working together and seeing the value in working as a group and community.
What has been your experience teaching in a Technology Enhanced Classroom?
I would describe my experience of teaching in a Technology Enhanced Classroom in a few words: unconventional and an adjustment. There are definite positives to using an enhanced classroom, such as being able to showcase over 10 screens, which allows everyone to see the screen and can be set up anywhere in the classroom. I think the biggest asset to an IFLEX classroom is the flexibility that comes with it. You can choose to lecture in multiple screens, have students work in groups, etc. It definitely brought group work to the next level.
The biggest adjustment for me was not being in the front of the classroom, and it took me a little while to get used to walking around the classroom instead of being stuck at the instructor's desk.
IFlex Classrooms are a collaboration between several campus units including: the Center for Innovation in Teaching & Learning, Facilities & Services, Classroom Technologies at Technology Services, and the Office of the Registrar.
Technology Enhanced Classrooms
Technology Enhanced Classrooms  are equipped with some of the newest teaching technology available. Technology Services upgraded many classrooms with wireless presentation technology. These classrooms allow instructors to move easily around the room and encourage more participation. Instructors in fields like Astronomy and Computer Science like the flexibility and sense of engagement that teaching wirelessly gives them. Here is what Dr. Stephen Altaner, professor of Geology at U of I, had to say about the newest renovations to our Technology Classrooms:
What has been your experience teaching in a Technology Enhanced Classroom?
It's definitely been a positive experience. I really like being able to use the different components of the system, especially the document camera. For a geologist, being able to examine rocks as a class and having the capability to zoom in closely has been super useful.
Did you have to sign up to teach in a Technology Enhanced classroom or was it assigned? What classes have you taught there?
With my introductory classes, they have been scheduled in the Technology Classrooms as long as I can remember. Initially, I did have to sign up to be in one. I have taught Geology 100, Planet Earth, and GEO 118 Natural Disasters in Technology Enhanced Classrooms over the years.
Which component on the Technology Enhanced Classroom did you find most valuable or found yourself using the most?
Certainly using Powerpoint Slides and showcasing computer presentations are crucial components to my teaching. However, my main usage as a professor is on the document camera. Natural History Building (NHB) classrooms has two full screens that I can use for different functions. I can have Powerpoint on one screen and zoom in on the rock for the other. This is crucial for a Geology classroom because it allows me to showcase to students the material while also having the explanation on the other screen. 
Throughout the years, the document camera has gone through plenty of upgrades, resulting in definite, enhanced images with a crisper focus and truer colors. The quality and usage of the document camera has significantly upgraded over the years. I plug in my laptop to use Powerpoint slides, access videos, and do computer presentations. All in all, the most crucial aspect of the Technology Enhanced Classroom that I use is the document camera.
I heard new technology was recently added to some classrooms, such as wireless presentation tech like Mersive Solstice Wireless Presentation. Have you used it?
Yes, I have used it mainly because I had problems connecting with the HDMI. Normally, I plug in my laptop with the HDMI connector and control the Powerpoint with a clicker in different parts of the room. I'm not usually constrained to the front area, so I mainly use wireless when I can't get the connection through HDMI. I normally use HDMI because I'm used to it and it has fewer steps, but I could see how [the wireless presentation tech] could be helpful and used more often in the future.