Technology Services provides campus-wide technology solutions that support the teaching, learning, and research missions of the University of Illinois Urbana-Champaign. We partner with other departmental IT staff to serve nearly 70,000 faculty, staff, and students.
Application Services Specialist or Senior Application Services Specialist




Technology Services is looking to fill several Application Service Specialist (Specialist or Senior) positions to support web hosting (cPanel, WordPress) and/or IT service management (TeamDynamix) services. As campus wide services used by students, faculty, researchers, and staff these positions must provide high levels of customer service. Application Services Specialists play active roles in developing new and emerging service offerings: engaging with vendors, service owners, campus governance groups, customers, and other key stakeholders to identify needs and possible solutions, then developing service roadmaps using data-driven justifications.

These staff play a critical role in defining key service performance metrics and creating mechanisms to monitor and measure. They are responsible for the day-to-day administration of IT applications and services, completing tasks such as troubleshooting; resolving issues; creating documentation; interacting with customers and end users; ensuring security and privacy compliance; planning and implementing upgrades and feature roadmaps; and escalating issues to vendors and/or other IT groups.
This position closes 9/25/23
Why Work at Technology Services?
We are dedicated to becoming the premier place to work at the University of Illinois. We invest in our staff to enable them to do their best work and prepare for inevitable changes in the technology landscape. We encourage and provide opportunities for continuous learning and development.
Office of the CIO
Leadership in business and IT functions to Technology Services in areas of IT governance, communications, marketing, budgeting, finance, HR, and project and process management.
Application Services
Provides campus-wide communication tools, teaching and learning technology, web hosting, quality assurance, and software development.
Infrastructure
Provides campus networking, virtual hosting, structured database storage and administration, and installation and maintenance for managing data and voice services between campus buildings.
Privacy and Security
Dedicated to helping reduce risk, and protect people, devices, and information at the University of Illinois.
Research and Innovation
Provides IT access and support for advanced computing resources for the University of Illinois research community.
Service Delivery
Provides the entry point into Technology Services, including direct support for the everyday technology needs of the campus community.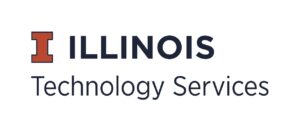 Technology Services provides a number of essential campus services to support the university's mission. These metrics showcase the impact some of the services the organization provides.
Read More »