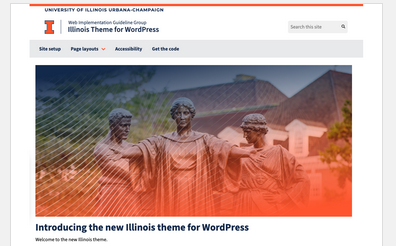 An official University WordPress theme is now available in publish.illinois.edu (PIE) and cPanel Web Hosting services. Apply the "University of Illinois 2020" theme and start building your website today!
Where to start?
Both options are free and available to all University faculty, staff, and students. You can also collaborate with partners outside of the University.
The simplest web hosting option on campus is a WordPress network called publish.illinois.edu (PIE). This hosting solution helps you build a fully managed WordPress site with an appropriately branded design out of the box so you can put your time into the content rather than the design.
PIE sites are kept up-to-date with the latest security patches and features.
If none of these solutions meets your needs, check our Web Hosting Finder to help best match you with the range of hosting options campus offers.
For more personalized guidance, contact us at the UIUC Tech Help Center. We're always happy to walk people through choosing a platform, helping you manage access for your team, and providing your site for your desired audience.