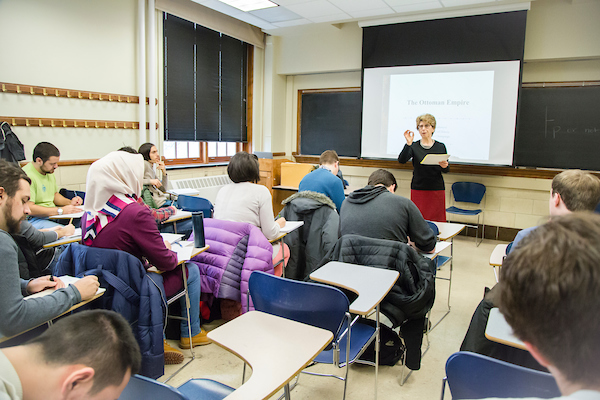 Classroom Technology (Class Tech) trainings are proving to be extremely valuable for instructors in non-department-owned (General Assignment) classrooms across campus. According to recent survey results, 100% of respondents agreed that the training they experienced was worthwhile and effective. Remarkably, 94% of the survey respondents also agreed that after completing the training, they now feel comfortable using the technology in their assigned classroom. While learning how to use the university's advancing classroom technologies can have an initial learning curve, Class Tech is working hard to help instructors bypass the learning curve faster.  
To do this, Class Tech offers support to general assignment classrooms in 41 campus buildings and 311 technology enhanced classrooms by offering 1-on-1 training throughout the fall and spring semesters. Class Tech offers support for all classroom technology, including the following areas:  
Computers

 

Audio (

microphones, speakers, computer audio)

 

Video (projectors, screens)

 

A/V Control systems

 

Document cameras

 

Wireless presentation

 

Lecture capture

 
Class Tech trainings have helped over 300 instructors so far during the 2022-2023 school year, and they are still helping more. To request a training for your specific classroom, submit a request at any time. The training is usually a 30-minute, 1-on-1 meeting scheduled upon request; however, you can also request a group training through the form as well.   
Besides trainings, Class Tech also offers an online resource guide that explores resources including general university connectivity such as NetID and password help, two-factor authentication, accessing university Wi-Fi, university email, Canvas and more. The resources also include classroom-specific assistance for lecture capture, equipment check out, and more.   
Within the spring and fall semesters of 2022, there were over 3,000 general tech requests for classroom technology help. Of those requests, about 49% were resolved by Class Tech technicians, 41% were resolved at the Tech Services Help Desk, and about 9% were solved through 1-on-1 classroom trainings.  
If you are instructing in a General Assignment classroom and need assistance understanding or maximizing the technology in your space, you're not alone. Contact Class Tech or access its many online resources for help.  
For immediate assistance, please call the Technology Services help desk at 217-244-7000.