You'll see it everywhere—on digital signs all over campus or on that glossy flyer someone handed to you at a welcome event—"Contact the Technology Services Help Desk!" You'll also see and hear people with all sorts of technology questions: How do I reset my NetID password? Why did my computer stop working? Why can't I access this page? Where is this Cloud everyone talks about? How do I use that machine at the front of the room? 
Many technology roadblocks are actually quick fixes in the hands of the Technology Services Help Desk. And even the big problems are extremely solvable after someone at the Help Desk takes a look, on their own or sometimes as a team. 
Who is behind this Help Desk? Where are they? What do they do? What are they like? How do they have answers to so many of my questions?   
Three individuals from the Tech Services Help Desk shared some insight. 
What goes on at the Help Desk on the daily?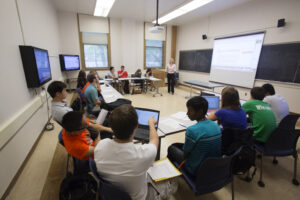 From ensuring instructors can teach with technology each day to clicking a button to grant access to a website, the Tech Services Help Desk is on it. 
"I usually check to see if any reports from the previous day will impact instruction for the day, and I notify instructors as needed. We have a small but mighty team of students who run around the entire campus in the evenings testing all the classroom tech and making reports if anything needs repair," Allison Lappin, Tech Services IT Specialist and Classroom Liaison says.  
Besides these evening tech checks and notifying instructors for classroom instruction, others at the Help Desk like Sam Mencimer, Help Desk Team Lead, schedule consultants to troubleshoot any outstanding classroom A/V issues during the day.  
In addition to these proactive measures to support campus technology, the Help Desk also receives a considerable amount of phone calls and responds to tickets submitted online for both small and larger tech issues. Sam Mencimer says, "A lot of [my] time is also spent answering questions that people have when speaking to a client. Sometimes, if it's really busy, I will jump into the phone queue and take calls until things slow down a little." 
Many day-to-day, common tech issues are a quick fix over a phone call, but some brought to the Help Desk are not. Regardless of how big or small the problem appears to be, most of the problems have a large impact on the clients—like when 10 years' worth of someone's work was deleted.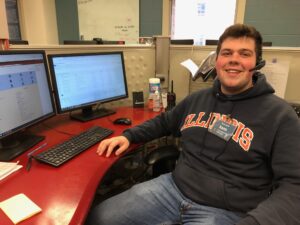 One Help Desk specialist shared, "The university has a policy of closing the mailboxes of unaffiliated accounts. Unfortunately, this sometimes has an adverse effect on seasonal workers. I got a call from a person who is regularly re-hired by the university during specific seasons to do a specific kind of research. She missed a year due to personal reasons. Due to a clerical error, her mailbox was not given the extension she needed after skipping a year. This led to her university mailbox being deleted a few weeks before she was due to be rehired. In short, our automated cleanup tools unceremoniously destroyed about 10 years of her career. Discovering this, I quickly emailed her supervisor about it. Because it had been less than 30 days, the mail server still 'remembered' everything that had been cleared away. I was able to restore it fully, and she later called back personally thanking me for saving the past 10 years of her work." 
Allison Lappin adds to the impact that she knows the Help Desk has on individuals: "This past semester, I met with a professor that newly arrived to the U of I from Harvard. The classroom she was assigned to for the semester was undergoing new programming, so we were not going to be able to meet in the room before the semester started to go over the technologies. I found a room with similar technology and scheduled to meet her in that room instead. We were able to address her questions with the system as well as have a conversation about the Urbana-Champaign area. She expressed how much more prepared she felt coming into her first semester on campus. I made sure a consultant was present at her first class to ensure she could get set up properly. Everything ran smoothly. She reminded me how impactful our 'daily tasks' can be on an individual's experience."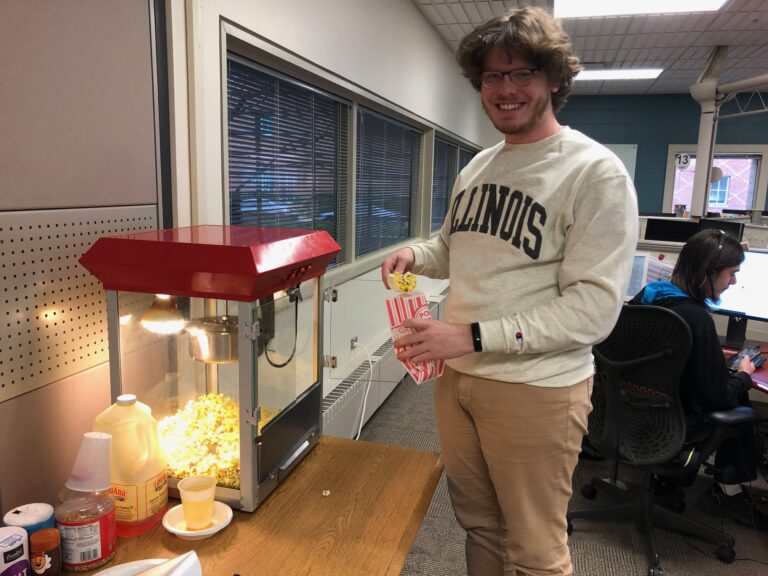 Another Help Desk Specialist adds to Allison's talk about impact: "I genuinely feel that I am helping people. Every day I find another problem that my experience helps me to understand. I'm given the opportunity to guide users through the maze of passwords, multi-factor authentications, and Microsoft tools. My service feels more and more vital with every passing software update." No matter how big or small the issue is, the individuals at the Help Desk understand the impact that solving one small question can have—and they don't take that for granted.  
Remembering the value of daily tasks is even easier when it relates to the Illinois Governor, past and present: "Once, one of our consultants took a call, put it on mute, and said 'The governor wants his NetID renewed!' Governor Pritzker was coming to visit, and needed his account reactivated. A few months later, the same consultant picked up another call from former Governor Jim Edgar. It reinforced the idea that the work we do here is important!" 
Who is behind the Help Desk?
Sam Mencimer explains that the people who work at the Technology Services Help Desk are the first line of support. Sam says, "The Help Desk phone number is plastered all over every single university website, so it's often the first place people go to when they need help. This means that we get issues that require us to do some digging in order to find out who can fix the problem. Sometimes, this involves things like conference calling two or three departments in so that everyone is on the same page. One such instance last semester required us to get in touch with Urbana ID Management, University of Illinois Chicago (UIC) Tech Solutions, the Administrative Information Technology Service (AITS) Desk (AITS is responsible for the University of Illinois System Offices IT, which oversees all 3 Illinois universities), and finally the AITS Identity and Access management. We had to get in touch with all of these offices in order to get a user access to Microsoft Teams because the user was enrolled in classes on the UIC campus previously but needed access to UIUC Teams because they were working for the System Offices." 
As the first line of support, the Help Desk is (and must be) persistent. They are committed to either solving the issue, finding the knowledge, or getting someone who can help. Allison explains that assisting instructors can get complex because different devices respond differently, different classrooms have different tech, and each instructor has different needs. Thus, Allison says, "I take the time to look into each classroom (we have over 300 rooms!) and understand the tech and any changes." This kind of dedication is not unusual at the Help Desk. Allison continues, "I love the dedication of my team. I have seen my colleagues exhaust all resources possible trying to resolve issues for clients… It's amazing to know so many passionate individuals who are getting ready to take on the world. I get a lot of inspiration from them."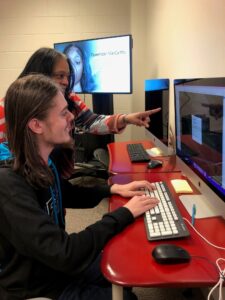 Tech Services Help Desk staff hard at work
Beyond just personal determination, the Help Desk knows how to get an answer when they don't have it. Sam says, "We have our wonderful colleagues at the Help Desk but also all across Tech Services. It's impossible for us to know everything, but chances are, someone in the office knows how to fix the issue. If not, they know who to ask. That's one of my favorite aspects of working at the Help Desk—we all work as one team. And, of course, sometimes we resort to Google." 
The Help Desk is not only an impactful resource for our university, assisting all students, faculty, staff, retirees and even campus visitors to move past all technology roadblocks; it is also a positive place filled with determined individuals that know their depth of impact and enjoy working together to serve our campus best. One Help Desk specialist says, "I genuinely feel that I am helping people. I really appreciate the variety of people that I get to meet at the Help Desk." Sam agrees. "The people are definitely the best part. And the fact that our work helps people in a meaningful way every day makes the work very fulfilling." 
This sentiment is shared by Jennifer Sturner, Manager of Integrated User Services. "Our Help Desk team consists of 50 student employees and 9 full time staff. We support all faculty, staff, students, and retirees so our scope of work is vast. Every day I am impressed with this team and how hard they work to support our customers. They continually go above and beyond to make sure every request is handled to the best of our ability. I am proud to manage such an outstanding group of people!" 
The Technology Services Help Desk currently has two physical locations, which both take walk-ins:
Digital Computer Lab (DCL) Room 1211

Main Library – Second floor, inside the Scholarly Commons
You can also contact the Help Desk by phone (217) 244-7000 or (800) 531-2531, by email consult@illinois.edu, or submit a ticket.
Learn more about the Technology Services on the the Tech Services website.