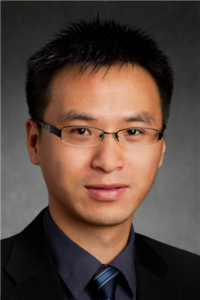 Dr. Ting Lu, professor of bioengineering, was one of the four recipients of the Greg Gulick Honorary Research Award in 2021. This award provided him with $25,000 in Amazon Web Services (AWS) credits to study either cancer or COVID-19. 
Dr. Lu's research began by studying cancer-bacteria ecology, but pivoted slightly after discovering the need to establish a foundation in order to effectively simulate the cancer-bacteria ecology. This is where his focus is today. 
"Evidence suggests an intricate association between bacteria and tumor development," Dr. Lu said, when asked about his initial interest in this research project. 
"For instance, bacteria may contribute to the onset of cancer, determine the rate of progression, and influence a patient's response to treatments. They can also be utilized for cancer therapies. This association motivated us to develop a modeling framework to understand the interplay between bacteria and tumors," Dr. Lu said. 
Dr. Lu's current research focuses on the modeling, analysis, and engineering of microbial metabolism and gene regulation for biotechnical applications. Microbes are tiny bugs that are everywhere around us. 
Dr. Lu has released two publications about this research in the American Chemical Society (ACS) Synthetic Biology.
Though a physicist by training, Dr. Lu has always been fascinated by biology. He made the switch from the study of theoretical physics to microbial synthetic biology during his doctoral training at the University of California at San Diego and advanced his research on microbial engineering with postdoctoral training. 
Though Dr. Lu has extensive knowledge in physics and biology, he did not need a lot of knowledge in Amazon Web Services (AWS) to begin benefitting from its use. For Dr. Lu, using AWS has been a simple and extremely helpful process. 
AWS is a self-service cloud-computing platform provided by the university for all faculty, staff and students. Customers can sign up and receive a login within five minutes. If needed, customers can also attend weekly office hours to talk to an AWS partner for free about anything related to AWS—from just getting started to consulting on services to dealing with big data. 
"The overall AWS experience is terrific," Dr. Lu said, "AWS offered us unique and powerful computational resources that were necessary for the successful implementation of our project." 
He also expressed gratitude for the award. "The Greg Gulick Honorary Research Award provided us a great opportunity to broaden our research scope. We are sincerely grateful for Mr. Greg Gulick's outstanding leadership and service to Technology Services, and very thankful for the support we received to advance our work." 
You can read more about the other winners and their research: Dr. Mohammed El-Kebir, Dr. Jialan.