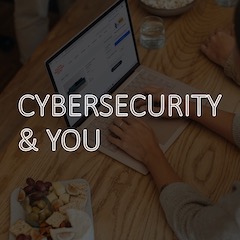 "It was very intuitive and very informational on how to stay up to date on cybersecurity."
Some lessons are those that can only be learned through experience. But Technology Services and the Center for Innovation in Teaching and Learning (CITL) have joined forces so that students don't have to experience a negative event or cyberattack to learn important lessons in cybersecurity.   
Informed students are less vulnerable to cyberthreats, which benefits them in their personal, educational, and future professional lives. A secure student computing environment also makes the University systems less vulnerable to attacks. 

Isaac Galvan from Tech Services' Cybersecurity Training and Awareness Team reached out to Milind Basole and his CITL work group to investigate a partnership after attending a presentation about the success of specific CITL eText at Illinois courses.  
CITL has produced a series of short eText courses in financial and media literacy—topics not always covered in the classroom. Technology Services works to educate the campus community about cybersecurity and data privacy. Put those together and the result is a new eText course, Cybersecurity and You, which aims to improve student literacy about cybersecurity and data privacy. Students engage with interactive modules and see real-world examples that encourage critical thinking about both topics. 
"I was impressed by the way eText at Illinois was working well on campus already and thought cybersecurity and privacy are another set of skills that students need to get by today," Galvan said. 
Galvan said that it was easy to get the CITL team on board.  
 
"Hearing about students in the news getting scammed or taken really motivated us and those stories continue to happen. Rallying the team to support cybersecurity and privacy awareness means we all have something to gain," he explained. 
Basole and Galvan appreciated how the meshing of different staff expertise* led to a great result. The working group included a graphic designer, a video production expert, instructional designers, and a subject matter expert. Together they thought of new ways to approach topics.  
 
"When we started collaborating, Chat GPT and generative AI were getting popular. Technology Services and CITL worked on using AI tools to generate some stories as scenarios that might happen to students in real life," Basole said.  
"It was challenging and rewarding trying new learning methods. We used arcs that our team had not yet used," Galvan added.   
Basole commends Tech Services for high quality content.  
"It is the subject matter that drives how well received it is. Only if the subject matter is useful will it be a success. Credit there goes to the Cybersecurity Training and Awareness Team," he said. 
The development group took existing training material, retooled it, and presented it in different ways. For example, videos were interspersed with real life examples. "The course is filled with bite size information to keep more engagement. We leveraged how we have seen students digest information better," Basole added. 
Basole explained one benefit of these literacy modules is a longstanding relationship with a lot of colleges. "Instructors like how these were presented and how they got students the info they needed. Each module is one hour or less of a time commitment. It can be a required or an optional extra credit activity, giving faculty the option to assign these in ways they like," he explained.  
While instructors can use eText modules in class, any student can take the course on their own, at their own pace. "Because of how material is presented, it will be available to them as eText until graduation. Students can refer back to it later," Basole added. 
Student feedback has been positive. Basole said that students often remarked in the feedback section about how easy it is for someone to be fooled and how important it is to keep your personal information safe. And students have also noted the course has practical and relevant information on how individuals can protect themselves and their digital assets in today's interconnected world.  
Both Basole and Galvan expect that the next iteration will be just as engaging—for both the development team and the participants. Next steps include adding an animated choose your own adventure style modules to the course.
While designed originally for the Urbana student population, Cybersecurity and You, is available to anyone with a NetID. It is a free module, and all three campuses can use it.
Take the course at https://go.illinois.edu/cybersecurityetext.
---

Team Members
Technology Services
Isaac Galvan
CITL
Milind Basole
Erin Creuz
Shaun Mills
Robert (Bob) Dignan
Yury Borukhovich