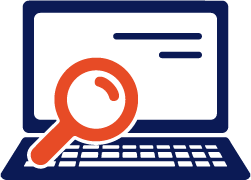 Research at the University of Illinois is essential to our mission. The Research IT group at Technology Services partners with research support professionals and units across campus to bridge the gaps that exist between researchers and technology.
Why work with Research IT?
All consultations are free
We can often connect researchers to free or cost-effective resources
You can focus on your research goals rather than on keeping up with the latest technologies that enable it
Research IT Services:
Find and Access Research Technology Resources, Consulting, and Training
One-on-One Help
From consulting services to application and software development support, we have specialists who can work with you and your team to write programs, improve code, design databases, and more to enhance your research capabilities and meet project milestones.
Research Computing & Storage
Research computing and storage needs are complex and multi-faceted. Campus options include high-performance computing, stand-alone computation systems, cloud computing, and more.
Training Opportunities
Need to grow knowledge in a particular software? Want to grow your network between other researchers? We've curated a cross-discipline event directory to fit all your needs.

Answer a few questions to find the storage resource that's right for your research.

Answer questions to find the web hosting services that best meet your needs. Then, create a website for your research lab, class, or group.

The Campus Advanced Research Network Environment (CARNE) is a section of the campus network designed to provide unrestricted high-speed access to off-campus locations for specific research purposes.

Research Electronic Data Capture (REDCap) is a browser-based tool for collecting both high risk and non-high risk data. Illinois REDCap is provided at no cost to faculty, staff, and students.

Sign up for the Research IT e-newsletter for announcements and updates about research technology resources, services, and training. You can also access and read previous Research IT News editions.
Research Privacy and Security
Privacy and security are essential components of the university's research enterprise. Some topics to consider when thinking about security in relation to research are:
Issues related to devices: device physical safety and access, hardware backups
Appropriate classification of the research data: FERPA, HIPAA, and other types of data have different legal handling regulations
Understanding what tools or capabilities are required and associated in handling such data
IT Services for Privacy and Security
If you or your research group is considering new technology for your research, you can get help vetting a product or company for security through our service:
Other services that apply to secure computing: