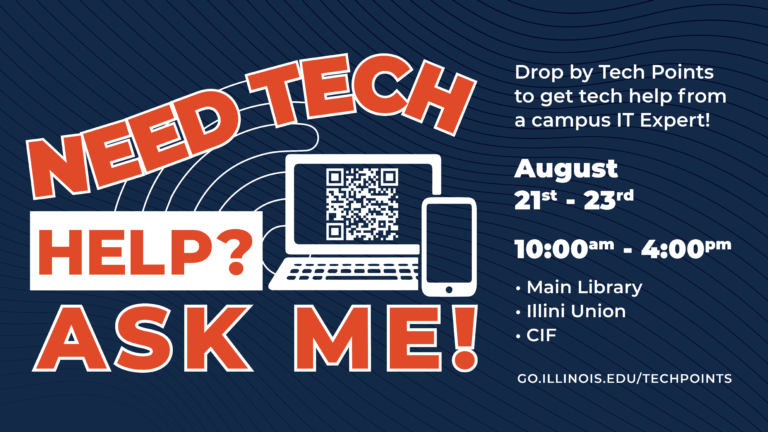 Tech Points is an event held during the first three days of classes, August 21-23 from 10:00 AM-4:00 PM each day. University IT professionals gather in three locations across campus to run pop-up help desks for anybody needing technology or software assistance. Last year, Tech Points provided help to over 200 customers.
Where and When is Tech Points?
Tech Points supports three pop-up help desks at three locations:
The help desks at each of these locations will be open from 10:00 AM – 4:00 PM. There will be technical assistance as well as general guides to help customers locate each help desk.
What can I get help with?
Come with any technology or software questions you have. The Tech Points technical assistants are well-equipped to help with any technology and software need or can point you to somebody who can.
Last year, the most frequently asked questions involved general software setup help, printing, connecting to campus Wi-Fi, MFA/2FA, hardware/software purchases, Campus Email and Canvas.
Still want to know more?
Visit the official Tech Points webpage, which includes more details about Tech Points and other resources to assist you.
If you have specific technology or software questions throughout the year at any time, contact the Technology Services Help Desk: