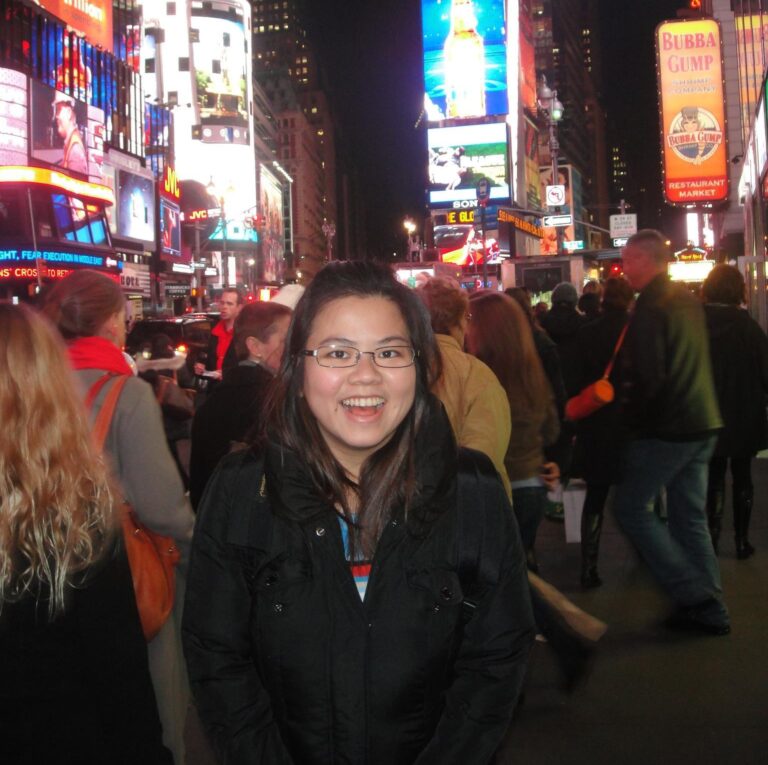 If Julian Chin could share a meal with anyone—fictional or not—she would eat with the elderly (fictional) sleuth Miss Jane Marple. The hero of Agatha Christie's widely-beloved crime novels, Miss Marple is an elegant, wise, and humorous woman who uses her keen observation skills and inductive reasoning abilities to solve crimes. Growing up adoring Miss Marple and other detective series like The Adventures of Tintin left its mark on Chin. Although she doesn't solve crimes like her childhood heroes, Chin puts her inductive detective skills to work every day somewhere else—as a data analyst at Technology Services. 

What does a data analyst do at Tech Services, and how does it affect the larger campus?
As a data analyst on the Data and Technology Innovation Team at Tech Services, I work with researchers, faculty and staff to help them find answers and valuable insights from data. I do this by starting by gathering and organizing the data in a structured manner, analyzing the data through different techniques, and creating easy-to-understand visuals (using Splunk or Tableau) to present findings and patterns from the data. Part of being successful in my role also includes understanding users' needs, creating innovative solutions, and improving data procedures and processes ultimately provide data analytic solutions that benefit various departments and groups across campus. 
Data-driven insights enhance everything from cutting-edge research to daily campus operations. So the work I get to do eventually trickles down to improve the larger campus community as a whole—including the student experience, too.
What's the best thing about your current role?
The best thing about my current role is the incredible people I have the opportunity to work with. The colleagues and individuals I interact with at Technology Services are not only friendly, but also genuinely eager to share their expertise, knowledge, and skills. This collaborative and knowledge-sharing atmosphere has fostered an invaluable, supportive, and safe work environment.
What do you feel like has been one of your biggest accomplishments in this role?
One of my biggest accomplishments in this role has been developing the cloud-based COVID-19 testing data pipeline with the Data and Technology Innovation Team and other colleagues at Technology Services. This pipeline has successfully processed over 2.8 million COVID-19 testing results since the start of the pandemic. It also quickly organized the data of individuals who tested positive, which enabled the public health department to take immediate action and gave direction to individuals who tested positive. This pipeline also facilitated data-driven decision-making for the university admin and local government to formulate policies. The testing program has been made accessible to University of Illinois affiliates and nearby communities, benefiting thousands of students, staff, faculty, and community members daily since 2020. I was also very grateful to be honored with the Employee Excellence Team Player award in 2021 for my contributions and collaboration across campus. 

What's one thing you like to do outside of work?
Outside work, I love attending the Chicago Symphony Orchestra concerts. Though I can only make it once or twice a semester, experiencing the performances helps me relax and relieve stress. I also find joy in playing the piano during my visits to my family back home. Music has been a wonderful outlet for me, providing a sense of relaxation and fulfillment in my leisure time. 
One fun fact about myself is that when I was a kid, I had a pet Brazilian horned frog named "Ikkyū," after the famous Japanese Zen Buddhist monk. It was quite a unique and interesting pet to have. Ikkyū was a clever frog and could recognize my mom's voice. My mom took care of Ikkyū daily by feeding Ikkyū live fish and maintaining the tank with gravels and shallow water to provide the necessary high humidity environment. Despite the challenging care requirements of a Brazilian horned frog, Ikkyū lived a remarkably long life of 15.5 years. It was a memorable and rewarding experience to have such an extraordinary pet, and I have fond memories of my time with Ikkyū. 
---

"Behind the Screens" is a series of stories highlighting a different member of Technology Services each month so that you can get to know who we are and what we do for our university.